Pet Surgery With Your Clifton, NJ Veterinarian
At Valley Animal Hospital in Clifton, NJ we understand that bringing in your furry family member for pet surgery can be traumatic. It's our goal to make the procedure as calm and reassuring as possible. Our veterinary team is experienced in rehabilitation surgery as well as routine procedures including laser pet surgery.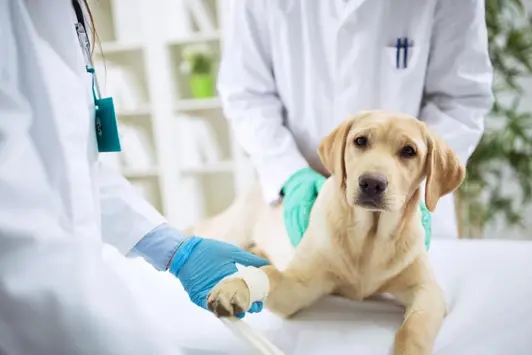 Rehabilitation Surgery Explained By Your Veterinarian in Clifton, NJ
Rehabilitation surgery is crucial in many instances for your pet to heal completely after traumatic accidents and surgeries. Our veterinarian in Clifton NJ offers a wide range of rehabilitation modalities to help pets recover. Some of the techniques we offer are:
Laser surgery. Lasers can penetrate flesh, but not through bone, making them ideal for treating wound healing and arthritic joints. Lasers accelerate tissue growth and wound healing, as well as increasing circulation in affected areas.

Therapeutic ultrasound. This technique works just like laser surgery, but uses sound instead of light to affect the body. It's a great help with muscles and ligaments that should be stretched while healing. Your pet will need to be shaved prior to this procedure, as the ultrasound head must be in direct contact with the skin for it to work.

Electrostimulation with whirlpool. This technique manages chronic pain, aids in circulation, relaxes muscle spasms and helps to reeducate the muscles.
Traditional Dog Surgery & Cat Surgery
Our team is experienced in a wide range of surgical procedures common to dogs and cats. Perhaps the most common for all animals is spaying and neutering. We recommend all pets be spayed or neutered, preferably during their first year. Another common dog surgery is anal gland surgery. These glands often become impacted and infected. Since they have no use for modern dogs, it's common for us to remove them. Among the other dog and cat surgery we do are:
Gastrointestinal surgery in the digestive tract

Tumor removals

Urinary tract and bladder surgery

Hematoma repair in the ear and ear canal resections for chronic ear infections
Our veterinary team take great care to check out your pet before, during and after any surgical procedure we perform. All surgical procedures are done in a sterile surgical suite, using a dedicated set of surgical instruments designed to prevent infection. We provide post operative care instructions and pain relief medication so your pet doesn't have to suffer through any undue pain after their procedure.
Call Your Veterinarian in Clifton Today!
At Valley Animal Hospital, your pet's well-being is our first concern. We have patients in Clifton, Montclair, Nutley and the surrounding area. You can trust our team to care for your dog or cat like it was our own. If your pet has surgery in its future, call our office at (973) 509-5225 to make an appointment.