Pet Laser Therapy With A Clifton Veterinarian
One of the nicest things about the advancement of medical sciences is the fact that many of the most exciting innovations in human treatment methods apply equally well to pets. Laser therapy is a perfect example. This painless, safe form of treatment can dramatically enhance soft tissue healing and relieve pain without drugs. That's why our veterinarians in Clifton are so happy to provide pet laser therapy to our Clifton, Montclair and Nutley patients.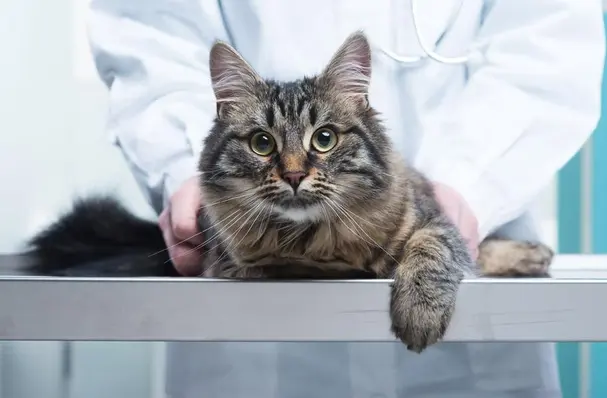 Healing Benefits of Laser Treatment
You might be familiar with medical lasers as those high-precision devices that can make pinpoint-accurate surgical incisions and seal wounds with minimal bleeding. But therapeutic laser treatment utilizes a different type of laser called a low-level or "cold" laser. This type of laser emits a lower-frequency beam than the surgical laser, one that passes right through the skin without leaving a mark or causing any discomfort whatsoever. In fact, pets usually find the effect quite pleasant, especially when the laser's healing and pain relief benefits become apparent.
How does laser treatment help your pet? The frequency of the amplified light causes damaged tissues to repair themselves more quickly and thoroughly by stimulating the production of an important cell-building "fuel" called adenosine triphosphate, or ATP. This effect helps your pet recover and rehabilitate from injuries or surgeries. Additionally, the warmth of the laser energy allows tight muscles to relax, which in turn permits better circulation in the tissues. This allows the muscles to expel inflammatory substances and the fluid buildup that causes swelling, resulting in natural pain relief.
Natural Pain Relief for Chronic and Acute Conditions
Your veterinarian in Clifton, NJ, Dr. Henderson, may recommend laser therapy as part of a larger treatment strategy from our pet rehabilitation center. Due to its ability to relieve pain and inflammation while accelerating the healing process, pet laser treatment can be extremely helpful for:
Nerve pain or damage

Muscle strains and tendinitis

Chronic joint pain conditions such as arthritis

Skin injuries and irritations

Urinary tract problems

Bone healing

Post-surgery rehabilitation

Infection-related pain and inflammation
Schedule an Appointment for Your Clifton, Montclair or Nutley Pet
A typical laser treatment session takes just a few minutes and requires no anesthesia or shaving of hair, making it extremely simple and convenient. We can schedule multiple treatment sessions to ensure optimal injury recovery or ongoing treatments to help manage chronic pain. Best of all, laser therapy is completely non-toxic and can be tolerated by animals who may not be able to take painkillers or other medications. Take advantage of this high-tech healing method by calling us at (973) 509-5225 for an appointment with your veterinarian in Clifton, NJ. We'll tell you whether laser treatment can play an integral role in improving your beloved companion's quality of life!