We Offer State-of-the-Art Hydrotherapy for Pets at Our Clifton Veterinary Clinic!
Our team at Valley Animal Hospital are asked a lot of questions about hydrotherapy for pets. If you don't know much about it and are curious about how it can be used to help animals, then we invite you to continue reading.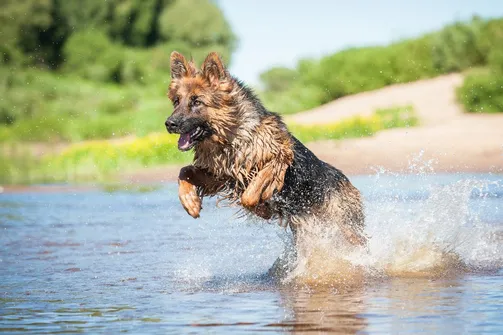 What is hydrotherapy?
Hydrotherapy is a rehabilitation technique used in humans as well as animals.
Dr. Henderson, a Certified Canine Rehabilitation Practitioner and Kelly Gettmann, a Certified Canine Rehabilitation Therapist, will devise a specialized program for your pet's needs. Physical Therapy includes resistance swimming in the pool, agility exercises and even walking on an underwater treadmill which your animal can use while partially submerged by comfortable temperature water, up to shoulder height). Hydrotherapy is a simple, natural, and non-invasive way to help animals heal from injuries and find symptom relief.
How does hydrotherapy work?
Hydrotherapy works by transferring the healing benefits of water to your dog's body. Specifically, the buoyancy and viscosity of water help to reduce the load on weight-bearing joints, reduce swelling, improve circulation, and maximize muscle strengthening and tissue healing.
Who is hydrotherapy for?
Hydrotherapy can be used on almost any dog with some sort of physical issue. We've used it in pets who are:
Struggling with arthritis and other painful joint conditions
Struggling with a muscle or nerve injury or disease
Trying to lose weight
Suffering from post-operative or post-trauma pain
Aging and dealing with age-related debility conditions
What should I expect during a session, and how should I prepare my animal?
In our experience, most dogs love water and are comfortable with the treadmill, so getting them into the pool is not typically a huge issue. Our trained staff uses patience, presence, and a calm demeanor to help make sure your pet feels comfortable every step of the way, from the application of personal floatation devices (if appropriate) to the first paw in the pool.
We encourage you not to feed your pet or give her lots of water right before a hydrotherapy session. The frequency and duration of each session, along with what exercises are performed during the session, will depend based on your pet's needs. Our Clifton veterinarian team can help figure out the appropriate prescription.
Interested in Hydrotherapy? Schedule A Consult with a Clifton Veterinarian Now!
Are you wondering if hydrotherapy could help your animal? Call our Valley Animal Hospital today at (973) 509-5225. We proudly serve Clifton, Nutley, Montclair, and surrounding New Jersey communities, so contact us today to find out more about our exceptional services or to schedule an appointment with a Clifton veterinarian.