Pet Dental FAQs Answered by a Veterinarian in Clifton NJ
Your pet's health relies on visiting an animal hospital or veterinarian more than when an emergency happens. You need to bring your pet in for routine pet dental care. By having regular cleanings and dental exams, you may be able to prevent your pet from needing oral surgery. At Valley Animal Hospital, serving Clifton, Montclair, and Nutley, we're asked many questions about pet dental care and oral health.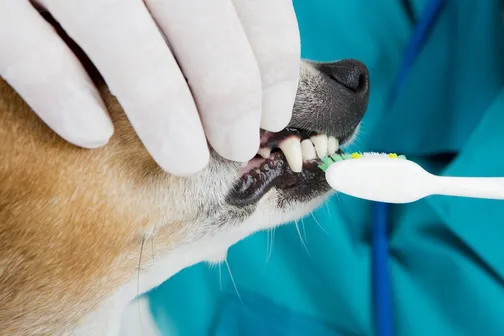 1. How Often Should a Pet Get Dental Care?
You should bring your pet to us at least once per year for us to give your pet's teeth a thorough cleaning and a comprehensive examination.
2. Should I Brush My Animal's Teeth?
If you have a cat or dog, you should aim to brush his or her teeth once per day. Even though they make pads and sponges to brush your animal's teeth, a toothbrush works best.
3. What Happens During a Dental Examination?
Our vet will examine each tooth individually to look for damage. We check inside your pet's mouth for infection or gum disease. We conduct a teeth cleaning that helps reduce the amount of plaque on your pet's teeth. This will reduce your animal's risk of periodontal disease and tooth loss. We'll also make sure your pet is losing baby teeth, and the new teeth are growing in as intended. Usually, the baby teeth begin falling out between 14 to 16 weeks; however, each breed is different and so is each pet in general.
4. Do Pets Need Treatment for a Broken Tooth?
Even if your pet doesn't seem bothered by a broken tooth, the fracture could get worse and expose the nerve canal of the tooth.
5. When Should Your Pet First See the Vet for Dental Care?
We advise our patients to bring their pet in as early as possible. That way, we can educate you about dental care early. Additionally, we're able to predict any problems early.
6. When is Dental Extraction Necessary?
Sometimes, we must perform pet dental extractions, which consist of our vet surgically removing the tooth using specialized equipment such as a high-speed drill. We perform pet dental extractions because of conditions like periodontal disease, an abscess or a damaged tooth. During this particular procedures, we'll use anesthesia, so your pet won't be conscious or feel pain during the procedure.
7. Is Anesthesia Necessary for a Tooth Extraction?
Anesthesia is necessary when getting an extraction or any other oral surgery. We advise pet owners to use anesthesia when getting a cleaning and examination. Before we administer anesthesia for any procedure, we examine your pet to determine if your pet is healthy enough for anesthesia. Keep in mind, age doesn't play a role in whether anesthesia is safe for your pet.
Call Our Veterinarian in Clifton Today!
Schedule an appointment for a dental exam for your pet with our veterinarian in Clifton NJ, serving Montclair and Nutley, by contacting Valley Animal Hospital at (973) 509-5225.