Pet OsteoarthritisTreatment with our Clifton Veterinarian
Unfortunately, because pets have bones and joints, they're susceptible to conditions like osteoarthritis. This condition not only causes your pet pain, but it also affects how well he or she moves. At Valley Animal Hospital, serving Clifton, NJ and the surrounding area, we're a hospital and animal rehabilitation center that offers care like a pet exam, pet pain management, and pet rehabilitation to our patients who suffer from osteoarthritis or another condition that causes pain.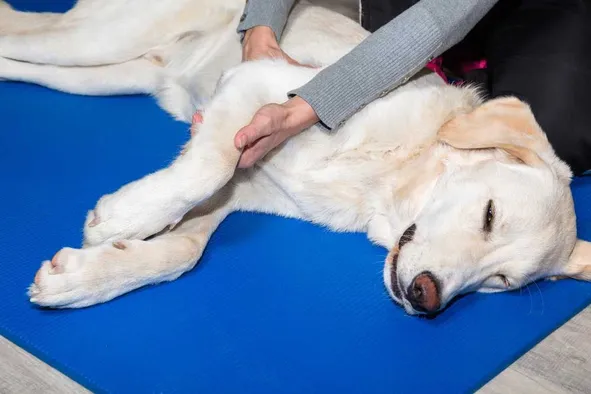 Definition of Osteoarthritis
Osteoarthritis is a degenerative joint disease that continuously harms the cartilage surrounding the joints. It's a permanent condition that may affect both cats and dogs. Your pet's risk increases as he or she ages.
The symptoms vary from one pet to another. For instance, your furry friend may have noticeable signs of pain. Your pet might not move as much as a result of the pain. In fact, you may see your pet experiencing lameness or a stiff gait. The symptoms your cat or dog has might increase when it's cold outside. After your pet exercises, it may worsen as well. Even prolonged periods of lying down can negatively impact your pet's symptoms.
Researchers haven't determined a cause for osteoarthritis, but it does appear, it can stem from abnormal wear and tear or trauma. Pets who have a congenital defect may develop it. Obesity plays a role in the onset of osteoarthritis since the excess weight places extra stress on your pet's joints.
Diagnosing Osteoarthritis
Often, our veterinarian in Clifton diagnoses the condition based on your pet's symptoms. Your furry friend will undergo a pet exam to check for any visible signs of issues. Your pet may need an X-ray or MRI. Typically, our veterinarian won't conduct any type of blood tests since it can't detect osteoarthritis. However, if our veterinarian feels it could be rheumatoid, your pet may need to have a blood test to rule out the possibility of it.
Treating Osteoarthritis
Our veterinarian may recommend pet pain management using anti-inflammatory drugs to alleviate pain, in particular when it's caused by inflammation. The goal of the treatment is to manage your pet's symptoms on a long-term basis. Pet rehabilitation is another important aspect of the treatment. At our animal rehabilitation center, our veterinarian guides your pet through exercises that help move the area your pet is having problems with. These activities help to increase flexion and function in your pet's body part(s). Massages and hot and cold therapy can assist as well.
Schedule an appointment with our veterinarian in Clifton at Valley Animal Hospital by calling (973) 509-5225 today.