Laser Surgery With Your Clifton, NJ Veterinarian
For some reason, cats--and even some dogs--seem to love lasers. Well, at Valley Animal Hospital, our vet staff loves lasers, too! But we're not talking about the kind that your furry friend chases all over the house. Our veterinarians in Clifton NJ utilize specialized laser technology that safely and effectively enhances our pet surgery services for all animals in need.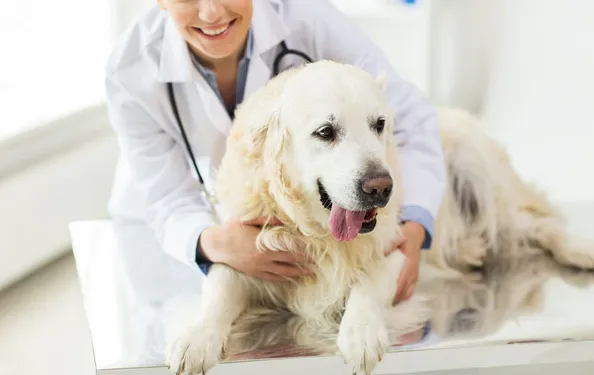 Pet Laser Surgery Works--Here's How From Your Clifton Veterinarian
The surgical laser technology we use at our animal hospital in Clifton is called a CO2 laser. This invisible light has a specific wavelength which cuts, seals, and vaporizes soft tissue with extreme precision. This means that only the targeted tissue is removed, thereby preserving nearby healthy tissue. Pet laser surgery is primarily used for soft tissue problems, including the removal of oral cysts, skin tumors, and anal glands.
Top 3 Reasons Our Pet Surgeon Team Trusts Pet Laser Surgery
Our pet surgeon team has seen firsthand the benefits of pet laser surgery for animals in need of surgical care. These benefits include:
Less bleeding during surgery
Less pain after surgery
Lowered risk of infections throughout recovery
Of course, any surgery comes with at least some risk. But our pet surgeon team finds that pet laser surgery is overwhelmingly safe and effective for our animals patients, and can significantly improve outcomes for pets and owners alike.
Surgical Laser Technology vs. Rehabilitative Laser Technology
In addition to pet laser surgery, our animal hospital in Clifton provides certified pet rehabilitation services, as well, including therapeutic laser technology. Often called "low level" or "cold laser" therapy, our therapeutic laser devices have much less energy compared to the medical lasers used during surgery. When directed at target areas on your animal's body, this low-level laser increases the production of "cell fuel" (called ATP) and stimulates cellular regeneration. This triggers a cascade of therapeutic effects, including decreased inflammation, decreased pain, decreased swelling, and increased muscle relaxation. When provided in conjunction with our other certified pet rehabilitation services, therapeutic laser technology can make a significant positive impact on your animal's health and recovery.
Indeed, many of our four-legged patients benefit greatly from therapeutic laser treatment following pet laser surgery--truly the best of both worlds to maximize your animal's comfort and long-term health outcomes.
Looking For Pet Laser Surgery Services Near You? See Our Veterinarians In Clifton NJ
Valley Animal Hospital in Clifton, NJ is happy to serve Clifton, Nutley, Montclair, and surrounding New Jersey communities. Our vet staff wants to help every pet owner make informed decisions regarding their pets' health, which is why we're happy to take the time needed to help you determine which veterinary services are best for your animal companion. If you have concerns about your pet's health and would like to learn more about pet laser surgery or our certified rehabilitation services, call us at (973) 509-5225 today to speak with a staff pet surgeon or one of our other friendly team members.