About Oral Surgery and Pet Dental Care at our Veterinarian in Clifton NJ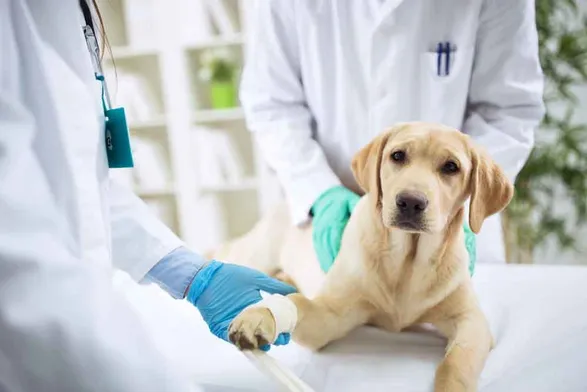 Too often, we are not aware of painful issues our pets may be having such as a sore or broken tooth that is causing them a great deal of distress. This is one reason why Dr. Henderson stresses the importance of pet dental care and routine visits for pet dental exams. Often painful mouth issues in your dog or cat can require oral surgery like pet dental extractions to resolve the issue. Our experienced and caring veterinarian in Clifton NJ can help with that.
Your Pet's Dental Care is our Priority at Our Veterinarian in Clifton NJ
Our Veterinarian in Clifton NJ is experienced in a wide range of dental surgical procedures for dogs and cats. Our team offers several dental treatments and procedures from yearly dental cleanings to more complex issues that involve oral surgery or pet dental extractions. If you think your cat or dog may have an issue and need pet dental care, here are some signs that you may be right.
Symptoms of Dental Disease We Have Seen in our Animal Hospital
Constant clawing or pawing at the mouth
Swollen, red, or bleeding gums
Consistent bad breath
Signs of sensitivity around the mouth area
Loss of appetite due to difficulty of chewing food
No interest in playing with their favorite toy
Tarter and plaque build up
Should your pet have an issue that requires oral surgery or pet dental extractions from gum disease, a broken tooth, oral tumors, or abscessed teeth, our caring team of pet lovers can help patients in Nutley, Montclair, Clifton, and the surrounding areas.
Oral Surgery and Pet Dental Extractions
Tooth extraction for pets is a pretty common dental procedure. Dr. Henderson offers this procedure for their patients at Valley Animal Hospital. We will discuss the benefits as well as any surgical risks and the cost of the recommended dental treatment at the consultation. We will also go over any concerns or questions you may have to ensure you have a complete understanding of the oral surgery procedure.
All About Anesthesia for Pet Oral Surgery
All pets that are scheduled for oral surgery of any kind will be under anesthesia during the procedure. The main reason for this is simple: your pet could never remain still, especially with the noisy equipment used. This could cause major complications, as sharp tools and a hyper pet do not mix well. Although you may have heard the risks of anesthesia, we assure you that our team at Valley Animal Hospital go the extra mile to make sure it remains as close to zero risk as possible.
Valley Animal Hospital's Dental Program
A complete dental prophylaxis (dental care program) is one of the ways Valley Animal Hospital helps you keep your dog or cat healthy. If your pet has had oral surgery or pet dental extractions, it is crucial to maintain regular routine visits for our dental care program for your pet.
Schedule Pet Dental Extractions and Oral Surgery at Our Animal Clifton NJ Animal Hospital
Does your pet need dental attention and possible oral surgery? If so and you live in Nutley, Montclair, Clifton, and the surrounding areas, Dr. Henderson at Valley Animal Hospital in Clifton NJ can help get your pet back to healthy in no time! You can reach us in our Clifton NJ office to schedule an appointment at (973) 509-5225. You can also use our convenient online scheduling form to make an appointment today. We look forward to seeing you and your pet soon!