Pet Hydrotherapy With Your Clifton Veterinarian
Many people have discovered the benefits of hydrotherapy for relieving pressure on painful joints and promoting safer, easier physical rehabilitation. Pets suffering from joint, muscle or nerve problems can enjoy the same kinds of benefits. If your pet needs a little help building strength, increasing range of motion and managing pain with painkillers, it's time to look into hydrotherapy from our Clifton veterinarians at our pet rehabilitation center.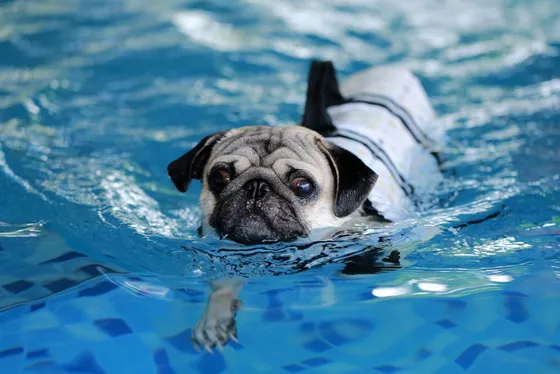 Why Your Veterinarian in Clifton Uses Pet Hydrotherapy
Hydrotherapy is the use of water as therapeutic tool. Your veterinarian in Clifton, Dr. Henderson, may prescribe water-based exercises for your pet. Water has some important properties that convey potent health benefits to animals struggling with pain, endurance, strength, flexibility or balance issues, including:
Buoyancy - Water applies an upward resistance against the force of gravity, causing a 100-pound dog, for instance, to experience a weight of just 38 pounds when immersed. This takes a significant load off of weight-bearing joints, making it possible to exercise and strengthen the limbs without pain.

Hydrostatic pressure - Water exerts a constant degree of force in all directions.This force can combat edema and tissue swelling (which in turn reduces pain) in pets with acute injuries, chronic inflammatory conditions and circulatory disorders.

Viscosity - Interestingly enough, water can make exercise harder (in a good way) even as it makes that same exercise easier. That's because the viscosity of water adds resistance, giving the muscles something to work against in strength training and cardiovascular training.
Veterinary hydrotherapy works equally well for both dogs and cats, although cats may require extra advance training and preparation. Swimming with flotation devices can be a highly effective means of rehabilitation Walking on a treadmill is especially valuable for pets with painful weight-bearing joints who need to reclaim their balance, poise, endurance and strength. Our animal hospital's underwater treadmill immerses pets up to shoulder height to provide welcome relief from gravity and a steady, constant walking platform for their rehabilitative exercises.
A Multitude of Modalities from Your Clifton NJ Veterinarian
Your Clifton NJ veterinarian can put water to work in various other way to support your pet's health, healing and pain management. For example, we offer resistance pool exercises to rehabilitate an animal's upper body. Swimming against a steady current provides constant resistance that improves joint motion, muscle strength and neurological function. Another of our specialty rehabilitation services combines whirlpool jets and electro stimulation to boost circulation, relax and re-train muscles and provide drug-free pain management. Hydrotherapy can even make an ideal complement to our "dry" specialty rehabilitation services such as laser and pulsed signal therapy.
Schedule Hydrotherapy for Your Clifton, Montclair or Nutley Pet
Call us today to find out whether hydrotherapy makes sense for your Clifton, Montclair or Nutley pet. We'll be happy to evaluate your pet and prescribe the appropriate treatment program for his individual needs and condition!